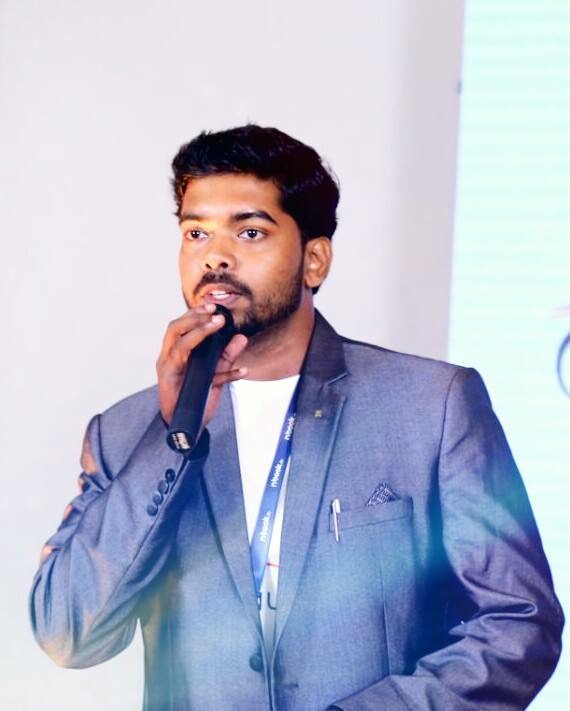 Sajan S S
IT Project Manager
Information Technology
---
Sajan SS, the computer geek is working as an IT Project Manager in Three Seas Infologics Pvt. Ltd. He once said "If you do not believe in science, turn off your computer. It doesn't work by faith!". In order to boost up his knowledge set, he is continuing his studies along with work. Apart from that, he is an Internationally Certified Ethical Hacker and Computer Science Engineer.

Now let's have a look at his biodata. Sajan is born as a last son of 4 member family in 1993. The difference between ordinary and extra ordinary is that little 'extra'. He was extra ordinary throughout his life – which starts from schooling. Sajan was the leader in all classes and received many awards for his qualitative attitude. This leadership skill imparts in his professional growth. He managed to get good scores in 10th and 12th from Kerala government syllabus.

Money was never a big motivation for him, except as a way to keep score. The real excitement is playing the game. But In order to kick start the game, we need money. So, he starts earning from his 7th standards of schooling onwards. He worked in a pappad factory for 5 rupee per day salary. It is not the money, but the pride of 'self-earned money' made him unique from his fellow-beings. After completing his SSLC, he successfully followed the entrepreneur path by starting a company named – Youth of Yearling Omnipresent (Yo Yo) computers followed by an event management company – Estrila.

Fortunately or unfortunately, things weren't working fine on his taste. No reason to stay is a good reason to go. Thus he moved off and concentrated more on studies. During this course of time, he managed to get 3 IIT certificates and scholarships from various institutions around the world. Sajan was selected as the best upcoming ethical hacker from south India and he is the top scorer from Techbharat (Delhi) till dated. Meanwhile he worked as an HR manager in SAAS infotech and Marketing Manager in Beach and Lake Ayurvedic Resort.

He is a kind of person who is fascinated by coding. He also got national level awards for spot programming and debugging. No matter where you are in your career, chances are you're in need of a little motivation to get to the next step—to go for the job you'll actually love waking up for, to ask for that promotion, or to just push through a rough day. The young techie managed to get a position in Srishti Innovatives as an iOS trainee.

It is good to have core knowledge on something and it is even better to have a good knowledge on everything around you! So, he tried for a professional change that is nothing else than Codding. As far as we know there are so many codding languages and he is an expert in C, C++,C#, Core Java, ASP.NET, DOS, Spring, Swift, J2ME and PHP. The BTech project which he did in ASP.NET is sold for 1 lakh rupees in World Techie Forum conference and he even got 1000$ scholarship from EC Council USA.

After all these hurdles, the vibrant fellow started his career as a Java Developer in Miraglo Software Technologies and then stepped to PHP due to the project requirements. In simple words he is a complete solution for all technical hindrances. Alike many others, he has an attitude to take risks and be innovative; thus he experienced failure many times. Still he says "success is not final, failure is not fatal: it is the courage to continue that counts. Success is the result of perfection, hard work, learning from failure, loyalty, and persistence" and moving ahead in his career.

Apart from coding and building up his professional life Sajan is focussed on Social service activities also. He actively volunteer in SARSAS (Save A Rupee Spread A Smile), MAD (Make A Difference), Helping Hand etc. He use to go for technical presentations, international conferences, taking classes in government offices etc.

To be a champion, we have to see the big picture. It's not about winning and losing; it's about every day hard work and about thriving on a challenge. It's about embracing the pain that you'll experience at the end of a race and not being afraid. People think too hard and get afraid of a certain challenge. Sajan is unique with his own innovative ideas and possess professional approach on every challenge he faces.